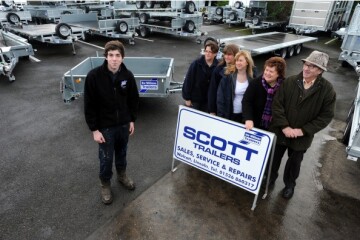 Link: http://www.iwt.co.uk/news/show/great-scotts-of-lincoln
For Scott Trailers, based in Walcott, is a family business in the true meaning of the words, even more so than when Bevis Scott and his wife Jean established the operation 47 years ago.
It is one of the oldest specialist trailer businesses in the country, serving Lincolnshire and Nottinghamshire, and it took a major step forward when, in 1973, it became a distributor for Ifor Williams Trailers, Europe's largest trailer manufacturers.
In the early days they built most of their trailers themselves but through the distributorship they are now primarily concerned in sales, repair and maintenance.
Remarkably, their single employee in the early days, Dave Wakefield, who still works in the workshop, has been with them from the very beginning and last year he received a long service medal from Lincolnshire Agricultural Society.
But it is the Scott family members who give the business its unique selling-point.
Now 73, Bevis still heads the operation and oversees all aspects of the business, while Jean still gives a helping hand in the office.
"Nowadays I mainly advise them and help them with any problems," said Jean.
Their three daughters all work in the office – Kay, 49, handles customer accounts and sales, Michelle, 46, also works in accounts and sales and Claire, 40, is responsible for the website as well as sales.
"We have been involved ever since we were kids so it was natural that we should eventually work here," said Michelle.
Things have changed dramatically since those early days, however.
"I was responsible for drilling the holes and the girls used to put the bolts in," laughed Jean.
Michelle's husband Chris Harper runs the workshop and the latest addition to the family set-up is their son Jack, 17, who joined the business on leaving Branston Community Academy last year. He is currently gaining experience in all aspects of the business.
"When I was in school I always used to help out in the office and so it was inevitable I would end up working here. At the moment I enjoy working in the workshop," he said.
The family's involvement does not end there, however, for Kay's daughter Katie, a nursery nurse, also helps out and the company's accounts are handled by Alison Scarborough, who is married to Kay's son Richard. She works for the Lincoln firm of Saul Fairholm.
Customers seem to like the fact that it is a family business because they know who they are dealing with," said Bevis.
Peter Nesbitt, the Business Development Manager at Ifor Williams Trailers, had nothing but praise for the Scotts.
He said: "We are delighted that the Scotts have been successful distributors for so many years and it is great to do business with such a close-knit family.
"We have a very high regard for the Scotts: they are an extremely professional and very hard working family.
"As well as selling our trailers they also are very adept at offering bespoke adaptations to our trailer range to suit individual customer requirements. "
"We are looking forward to celebrating their 40th anniversary as one of our distributors next year."